Listing Details
Wilmington, Massachusetts 01887
844-562-8700
http://www.locusrobotics.com
Locus Robotics is an e-commerce fulfillment robotics company, engaged in the production and sale of robots that improves warehouse labor productivity 5-8 times over traditional cart based methods. It serves retailers and manufacturers of premium-branded products.
Locus Robotics, which spun out of Quiet Logistics, offers a solution that is safe to work around humans, easy to train and integrates with its clients' existing warehouse management system.
Leveraging years of direct warehouse operations experience and deep firsthand knowledge of warehouse robotics, Locus has engineered a new approach to mission critical fulfillment operations.
The Locus platform, which works collaboratively with human employees, delivers greater throughput, reduced costs and unparalleled flexibility in moving inventory and orders through a fulfillment center. This efficiency and flexibility in turn allow operators to keep up with the increasingly complex demands of channel partners and consumers.
Locus Robotics is filling the void left by Amazon's acquisition of robotics company Kiva Systems in 2012. Locus' lower cost, higher tech solution offers: Faster picking, lower labor costs, and increased order accuracy.
LocusEmpower significantly improves their customer's e-commerce fulfillment productivity, helping workers pick faster and more accurately. Workers are able to process more orders faster, more accurately, and with less labor compared to traditional picking systems. More time on task, less time walking.
LocusEmpower gives workers more time on task, minimizing time spent walking around the warehouse. LocusBots work collaboratively and safely alongside associates. You can easily meet peak period demands and respond to volume increases – simply add more LocusBots.
Easy integration, quick deployment, and easy scaling LocusEmpower integrates with virtually any warehouse management system, deploying quickly, and scaling easily as your needs grow.
LocusBots™ work collaboratively with workers, helping them deliver higher throughput and improved accuracy. They move autonomously to where the workers are, minimizing worker walking and removing drudge work; automatically learn the most efficient travel routes through warehouses to dramatically improve worker efficiency and productivity 3x to 5x over traditional cart picking; and can be configured to meet a wide range of tote and multi-bin picking needs, matching virtually any fulfillment requirement.
Their lightweight design allows them to safely operate closely alongside workers and even in mezzanine configurations.
Company Leadership
Bruce Welty, CEO
Michael Johnson, president and COO
Sean Johnson, CTO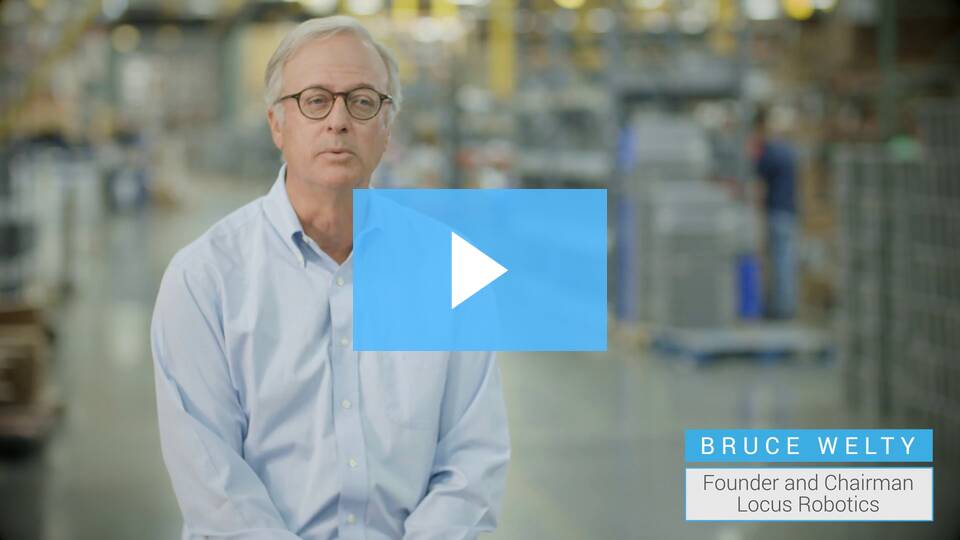 Locus Robotics Domain Expertise – Locus Robotics Domain Expertise